How much, I ask, can I just cut and paste from LJ here? Let's find out.
Today we discovered that small batch raspberry jam is a lot easier than processing forty pounds of apricots in a single hot afternoon. Of course, this means we have only ten jars rather than three or four dozen so we may end up doing more later or maybe we'll just be less sharing than usual. But it was pretty easy and, I think, enjoyable enough for both of us. Some photos were taken:
I call this one
the ingredients list
though the sugar in the photo is for twice the quantity of raspberries shown. The recipe was sort of a melange of
Joy of Cooking, Fannie Farmer,
and an
epicurious.com recipe
as modified in the comments section. (Three cups sugar, four packed cups fresh raspberries, juice and zest of half lemon will yield five 8-ounce jars of jam.)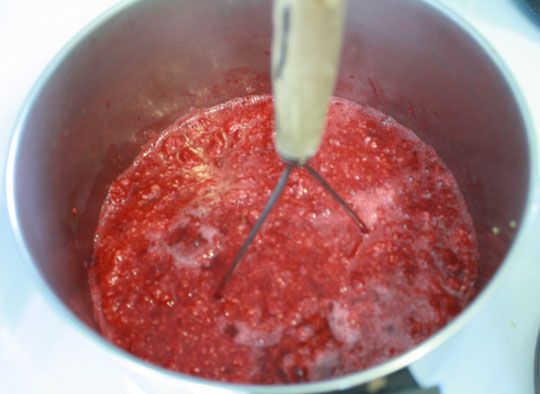 Mash the berries, cook at medium heat for fifteen minutes, then add sugar that has been heated in a 250-degree oven for the same fifteen minutes.
Always have a Virgo partner when making jam; Scott was a fiend for wiping up splatters and mess as we went. This was during the lengthy "boil until it seems like jam" stage. We eventually despaired of reaching a sufficient temperature and instead followed the tip in the Epicurious recipe: how does the jam drop from a cool spoon?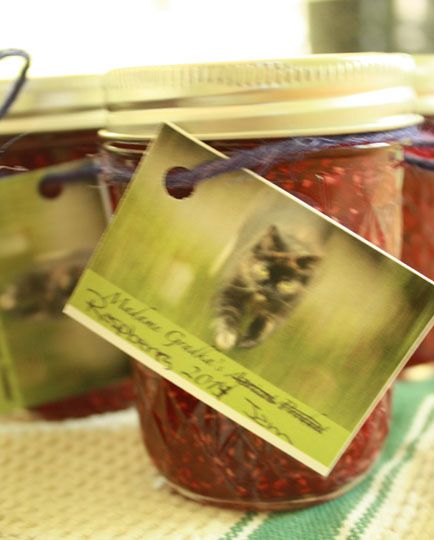 And the final result. Madame Gradka's
Apricot Product
Raspberry 201
4
Jam.
Also, in unrelated news: When Scott saw this photo he naturally said, "It's
The Astrowloger.